PhoneGap Development Services
PhoneGap Development Services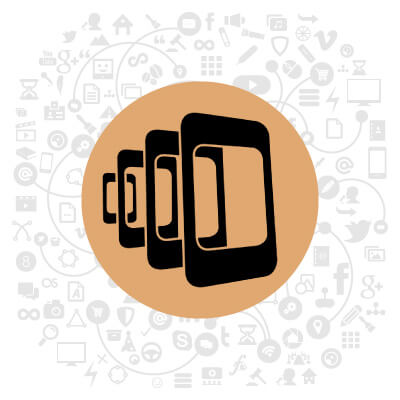 As customers increasingly use smartphones to access information and consume services online, businesses have taken to digital models for commerce. This hunch for convenience and passion for technology has led to surge in mobile app development.
To help businesses across the globe take the leap ahead of their competition, Webkad has been delivering world class mobile, phonegap development services using the best of technology platforms.
PhoneGap is one such platform which we specialize in.
What is PhoneGap?
PhoneGap is an emerging open source mobile application development platform best suited for cross-platform compliant mobile applications. Developed by Apache Software Foundation, PhoneGap is also known as Apache Cordova. Applications developed on phonegap development services deliver seamless performance across all mobile operating systems including Android, Blackberry, iPhone, etc.
How does PhoneGap work?
By integrating three powerful languages such as HTML5, CSS3 and JavaScript, PhoneGap enables developers to build powerful hybrid mobile applications. Using web technologies, phonegap development services effectively bridges the gap between hybrid and native applications by wrapping them up together to enhance their functionality. The final application is then wrapped within a platform native 'Web View' browser object. This renders it as a stand-alone web application with the ability to access some device-specific features.
Widely appreciated as one of the best frameworks for cross platform mobile development, phonegap development services provides access to most popular native features and APIs of the mobile device such as GPS, accelerometer, camera, local SQLite databases etc. All this is provided without having the need to write full applications for ready integration. It puts complicated languages like iOS to death and brings relief from technical mundane programming. Developers can reuse codes and use libraries to start building apps from scratch; focusing on business needs rather than technical issues.
PhoneGap development services is independent of mobile OS on which it is written. This implies that developers need not maintain different code bases for each platform. PhoneGap facilitates development of a single mobile app and wrapping it as a native app on other platforms, creating an impression as if it was written in the native app and is inclusive of all the features of the native app. Plain old JavaScript or even other libraries like jQuery, Prototype, Sencha Touch, MooTools, etc . can be used to handle the interaction. PhoneGap allows mobile app development for several platforms at once such as iOS, Android, Windows, etc.
PhoneGap lets developers leverage their existing skills on a common platform rather than with a device-specific compiled language. With PhoneGap developers can build applications in JavaScript, HTML and CSS  which give access to device hardware and other iOS API features like contacts, file system, camera, microphone, GPS, etc.
PhoneGap enabled mobile applications can run on multiple devices using the same code base. Hence, developers need to code only once for particular mobile application and run it on any type of mobile device.
Key Features of PhoneGap Mobile Framework
Open architecture support facilitates cross platform mobile app and enterprise app development
Single app on all mobile platforms running on a single code- saves time, money and efforts
Using Integral WebView or Webkit on the device through Foreign Function Interface supports using a single code to access all smartphone devices, irrespective of operating system
Provides numerous APIs for developing feature rich mobile applications
Enables easy distribution of developed apps via app stores
Supports development of icons for the customized mobile app developed for your business
Constant auto update support in line with flow of new smartphones in the market
Easy and cheap to maintain
Sews the best of both the worlds- HTML5 and CSS3
Advantages of Using PhoneGap
Being open source, PhoneGap is completely free. This translates to lower costs of development.
No hassle single app, enhanced reach: With the cost of developing a single mobile app just once, businesses can seamlessly deploy the same app across multiple platforms- Apple iPhone/iPad iOS, Symbian, Bada, Google Android, Windows Mobile, WebOS etc. This also gives exposure to a wider audience- all this at dearth low costs!
Less time to code translates to faster time to market and low turnaround time for processing
Apps developed on PhoneGap are guaranteed 100% approvals on app store
Exceptional Return on Investment (RoI): By facilitating compatibility with all smartphone devices, PhoneGap scales up for mobile visibility and active audience many folds. High performance, user friendly apps developed on PhoneGap garner versatile usage and hence, high sales number and ROI.
At Webkad, we develop industry leading mobile apps using PhoneGap Framework. Not only does it help us offer solutions to our clients at reasonable price points, it also helps us deliver quality solutions which translate into competitive advantage for our customers.
At Webkad, we follow a project based approach. Each customer gets aligned to a project manager who manages the entire project. Starting with evaluation and understanding of clients business needs, we follow up with expert consultants to provide best solution alternatives. Post the client buyin, we start developing the mobile app with agile development methodology. Implementing best practices at every point, we come to a final solution. Every stage is accompanied by client feedback and quality test. The final outcome is in line with client needs and delivered as per the stipulated timelines.
At Webkad, we provide a portfolio of services in mobile app development across:
Business apps development
Games apps development
Social networking applications
Web service integration
Our teams of experts have experience and knowledge in working across retail, ecommerce, hospitality, manufacturing and other diverse industries. We are committed to providing an enriching and unique customer experience.
Come and partner with us to mobilize your business ideas.
Webkad offers website design & development,  domain registration & hosting, e-mail service @yourname.com, interactive resume vcard website,  revamping, redesigning, e-Commerce, seo, smo, ssl, digital branding strategy & marketing with 100% RISK-FREE professional services around the world. Webkad offers online support for domain and hosting, Domain check, lookup, register, renewal, sales, transfer, availability, service provider, purchase. Webkad also offers latest top beautiful dynamic seo website, design, hosting, freelance, build, ecommerce, develop, business, web agency, website creator, web solutions, graphic, web logo design. Webkad is always affordable seo website designer, inexpensive, cheap, effective, flash, freelancer. Webkad offers seo website designs & development for all type of business, restaurants, medicals, NGO's, hotels, travel, personal,  Blog, Magazine, Corporate, Retail, Technology, Nonprofit, Entertainment, Wedding, Mobile, ecommerce, Real Estate, Education. Webkad is seo custom Website specialist for site design, redesign, revamp, maintenance, outsource. Webkad offers Website designs for mobile responsive, creative, innovative, online and interactive. Webkad offers Business email hosting, Website Domain, Dedicated Server, web hosting, Web consulting, website solutions. Webkad is fast growing information technology integrated solutions provider with strong professional background around, KAD was established in 1994. Webkad is providing its all professional services in USA, Canada, UK, France, Dubai, Egypt, UAE, Kuwait, Qatar, Bahrain, Saudi Arabia, Oman, Italy, Germany, Australia, Middle East, Pakistan, Malaysia, Singapore, Philippines and Spain.