iPad App Development Services
iPad App Development Services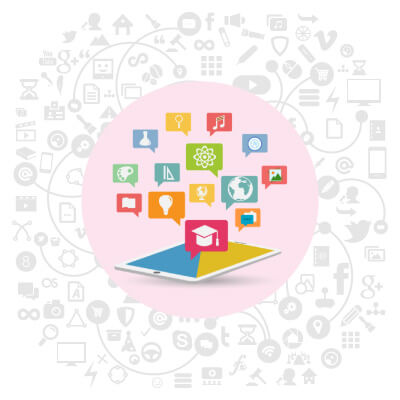 Step into promising business models of the future. Turn your ideas into iPad apps with development services from Webkad.
Technology is a key enabler to creating sustainable businesses in this marketing driven world. Consumers want services at the click of a button! With increased usage of mobiles and tablets, the shopping industry is all set to turn steep! With Apple constantly innovating and setting benchmark for the industry, access to information on handheld devices has become easier. The iPad is no exception. Being a popular device amongst customers, iPad applications have a huge demand amongst the users. Growth in iPad userbase, advance in technology and the hunch for convenience combined together has led to proliferation in iPad app downloads and revenues.
With Webkad, you can let go off your development worries and take on your ideas and business models to the users with innovative iPad mobile applications.
iPad App Development Process
Best-of-breed App development process calls for an amalgamation of vision, creativity, market insights and knowledge of the end product.
At Webkad, we have a talented pool of professionals equipped with skills and experience of working on iPad development across varied industries. Each assignment follows a well structured, project management approach with strict timelines. The broad steps followed during this development are:
Defining the scope and objective of the project
Post thorough understanding of the requirements, a feature guide is prepared. Its content includes:
– Introduction to App Objective and scope of development
– Index of features desired
– Detailed description of individual features
– Details of technology platform for development
This is finally turned into a prototype of the final outcome. It contains:
Structural skeleton of the app
User Interface layout
Feature checklist
Navigation structure
Now, our team of developers and designers build the app using SCRUM and Extreme Programming to turn around the project faster. Regular communication with our clients through constant updates, daily status reports and feedback sessions helps in collaboration and delivery in line with client expectations.
Our Services in iPad Apps Development
Webkad is an end-to-end provider of iPad app development. Our agile development methodology helps us create the right app to meet your business expectations. We offer a proven, highly flexible engagement model that starts with a comprehensive evaluation of your business and IT requirements to ensure that ultimately the right iPad solution will delivered both quickly and cost-effectively to meet your goals and deadlines. From hiring an iPad app developer to subject matter for consulting on issues such as business analysis, custom UX/UI design, code development, project management and/or quality assurance, we offer services to our clients to cover the entire spectrum.
Our team has experience across developing the following types of iPad apps:
E-commerce and Shopping Apps
Retail and Fashion Apps
Education Apps
Social Networking and Social Media Apps
Travel Apps, Food and Restaurant Apps
Book Apps
Health, Fitness and Lifestyle Apps
Real Estate Apps And Home Automation Apps
Music Apps, Multimedia Apps
Native Apps
Our team specializes across multiple technology platforms facilitating development of iPad applications including:
iPad (iOS) SDK
Cocoa Touch / Objective C / C++
Programming tools: Xcode IDE, Interface Builder
SQLite Database
OpenGL ES, Open AL and Core Graphics
Core Audio
Core Animation
WebKit Programming
Accelerometer, GPS
Core Location Framework
Benefits delivered to businesses across the Globe
As a leading iPad app development company, we provide the following advantages to our customers:
Custom applications: We develop applications as per your business requirements, tailored to your business environment
Uniform Look and Feel: A team of expert iPad application developers give a uniform look and feel across devices to convey your brand story consistently across channels
Reduced Time to Market: Incremental development and Rapid prototyping from Webkad ensures that you take your offering to the marketing at the earliest, leaving no opportunity of generating additional revenue
Reduced cost of development: Using Agile software development methodology and technically advanced tools and platforms, along with cheap and talented professionals gives us the benefit of low cost. This is passed on as benefits to our customers
Wider Reach: With iPad mobile applications, we enable business to reach a wider set of customers
Easy to Market: Apps developed help businesses convey their message in simple manner.
Access to skilled mobile app developers: We are a community of certified and experienced mobile developers having worked across projects in different domains
Complete customer support round the clock: We provide 24/7 customer support assistance to our customers through email and telephone
As an offshore development company, we have excess to the best and talented professionals in app development from across the globe. This helps us deliver huge cost benefits and domain expertise to our clients. Webkad is a leading provider of iPad app development services and brings commitment, best-in-class infrastructure and industry leading knowledge and experience to the table.
Come and partner with us to live the experience and turn your ideas into industry leading mobile applications.
Webkad offers website design & development,  domain registration & hosting, e-mail service @yourname.com, interactive resume vcard website,  revamping, redesigning, e-Commerce, seo, smo, ssl, digital branding strategy & marketing with 100% RISK-FREE professional services around the world. Webkad offers online support for domain and hosting, Domain check, lookup, register, renewal, sales, transfer, availability, service provider, purchase. Webkad also offers latest top beautiful dynamic seo website, design, hosting, freelance, build, ecommerce, develop, business, web agency, website creator, web solutions, graphic, web logo design. Webkad is always affordable seo website designer, inexpensive, cheap, effective, flash, freelancer. Webkad offers seo website designs & development for all type of business, restaurants, medicals, NGO's, hotels, travel, personal,  Blog, Magazine, Corporate, Retail, Technology, Nonprofit, Entertainment, Wedding, Mobile, ecommerce, Real Estate, Education. Webkad is seo custom Website specialist for site design, redesign, revamp, maintenance, outsource. Webkad offers Website designs for mobile responsive, creative, innovative, online and interactive. Webkad offers Business email hosting, Website Domain, Dedicated Server, web hosting, Web consulting, website solutions. Webkad is fast growing information technology integrated solutions provider with strong professional background around, KAD was established in 1994. Webkad is providing its all professional services in USA, Canada, UK, France, Dubai, Egypt, UAE, Kuwait, Qatar, Bahrain, Saudi Arabia, Oman, Italy, Germany, Australia, Middle East, Pakistan, Malaysia, Singapore, Philippines and Spain.