Custom Software Development Services
Custom Software Development Services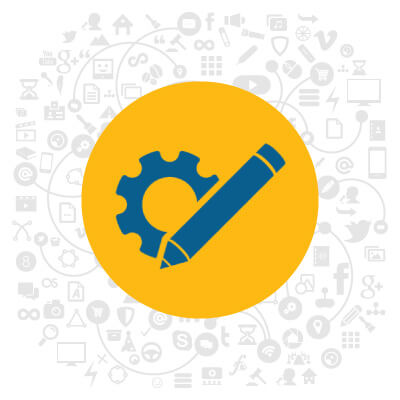 Get future-ready with custom software solutions powered with latest technology.
The world is changing fast with technology. New technologies are sweeping the market as Information Technology industry witnesses heightened consolidation. Utility based software technology like SaaS, cloud and mobile platforms are converging. Accelerated go to market for these solutions provides an early mover advantage and avoids wasting time and. unnecessary spend in playing catch up. The increasing pace of innovation has shortened the life cycle of software products. Visionary companies are building their global engineering software development ecosystem to innovate and outdo competitors.
Webkad Professionals, a leading Software Development Company, is home to the best talent for developing tailored software for your business needs. Web, cloud, mobile, desktop – we are the leading software development company providing cost-effective custom software along with assistance in delivering discrete project components, integration of latest technology with existing organization infrastructure and creation of interactive multimedia environment across all channels. Our solutions can blend seamlessly with your existing products and services to offer unmatched business benefits!
As the leading software development company around the globe, we understand challenges faced by our clients and specialize in devising solutions for client needs! We do not just keep ourselves limited to software development; we partner with our customers to educate them about the latest technology and trends transforming the industry and help them stay ahead of their competitors.
We hire the best software programmers around the globe to deliver robust and highly scalable solutions meeting client requirements. We follow a pre-determined methodology with proven frameworks. As a process oriented and quality-focussed software solution & development company , we value attention to detail and delivery on timelines. We do not ask for licensing fee, the source code and IP is completely yours!
Our Methodology
We provide bespoke packaged software tailored to our clients requirements by organizing each order into projects. The development project goes through the following 5 step process:
Discovery: This involves goal setting and expectation mapping with one-to-one meetings with the client. The requirements are categorized into mandatory, optional and good to have for a clear understanding of the desired outcome.
Scope Alignment: This refers to the entire solutions capabilities and features which need to be develop; listed item-wise with corresponding diagrams/mock-ups. Priorities are assigned to the features and capabilities desired. This helps in better understanding of the final look and feel of the software.
Development: This phase is in-house where our expert developers write the code for our client's requirements.
Revision: This stage involves debugging and modifications basis feedback received from the client. Multiple iterations are run through the customer to ensure quality solution meeting the client's requirements.
Shipping/Production: This is the final step when testing is done and the product is shipped to our customer or deployed at the customer's office and is ready to use!
Our Software developers are experts can develop software in any modern programming language Using our repository of pre-built code, detailed specifications design method, and quick development process; we can build custom software solutions faster. From simple systems to complex business solutions, we support design, technology, team, and methodology to quickly bring your idea and vision to life.
Our design process is iterative, creative, detailed, and yet still fast. We work with you to capture your vision to ensure desired user experiences are met. Our attention to detail as we move through creating specifications and business rules allows us to catch any problems early on and can often introduce new features for an improved experience and outcome. Using this method, common user interface elements, usability testing, and experienced software analysts and designers, our design process produces amazing results. All we need to get started is a list of features.
Our development team is the best in the industry. As a responsible software development company, we push the technology envelope every day. We have expertise with a broad range of technologies such as JavaScript, HTML 5, PHP, .NET, Python, Ruby, and Java. We also develop for tablets and mobile devices specializing in iOS and Android.
Our expert Quality Assurance (QA) Team helps to ensure that we always deliver "pixel perfect" software using a continuous testing process. We also employ a wide range of industry-standard testing tools that leverage established methodologies to provide your organization with superior quality and integrity. Our QA team is 100% QAI Certified.
Sharing data between disparate systems can be accomplished through well-written data interfaces and web services. Surge has developed a broad range of interfaces between various software, devices and platforms. We use the latest technologies to connect systems (both on-premise and web-based), share data, simplify and automate interoperability, and standardize data exchanges across the organization- whether you are trying to integrate web-based applications or internal systems.
Our colleagues are masters in software product development and are completely adept with latest technology platforms, market trends and industry knowledge. We are a one stop destination for your bespoke software product development requirements.
Come, partner with Webkad Professionals and experience the difference.
Webkad offers website design & development,  domain registration & hosting, e-mail service @yourname.com, interactive resume vcard website,  revamping, redesigning, e-Commerce, seo, smo, ssl, digital branding strategy & marketing with 100% RISK-FREE professional services around the world. Webkad offers online support for domain and hosting, Domain check, lookup, register, renewal, sales, transfer, availability, service provider, purchase. Webkad also offers latest top beautiful dynamic seo website, design, hosting, freelance, build, ecommerce, develop, business, web agency, website creator, web solutions, graphic, web logo design. Webkad is always affordable seo website designer, inexpensive, cheap, effective, flash, freelancer. Webkad offers seo website designs & development for all type of business, restaurants, medicals, NGO's, hotels, travel, personal,  Blog, Magazine, Corporate, Retail, Technology, Nonprofit, Entertainment, Wedding, Mobile, ecommerce, Real Estate, Education. Webkad is seo custom Website specialist for site design, redesign, revamp, maintenance, outsource. Webkad offers Website designs for mobile responsive, creative, innovative, online and interactive. Webkad offers Business email hosting, Website Domain, Dedicated Server, web hosting, Web consulting, website solutions. Webkad.com is fast growing information technology integrated solutions provider with strong professional background around, KAD was established in 1994. Webkad is providing its all professional services in USA, Canada, UK, France, Dubai, Egypt, UAE, Kuwait, Qatar, Bahrain, Saudi Arabia, Oman, Italy, Germany, Australia, Middle East, Pakistan, Malaysia, Singapore, Philippines and Spain.