Content Management Services
Content Management Services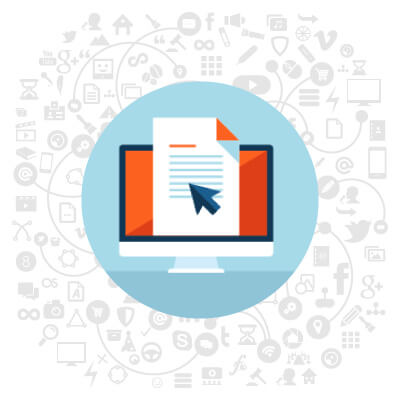 Webkad brings together the industry best practices and data for an integrated strategic approach to content management. Leveraging on business intelligence, data management, architecture and portal development skills, our end to end content management services focuses on improving business performance.
Why Content Management?
In today's world where people are closely connected, sharing knowledge is essential to moving towards a better way of living. Content has become the king! For corporate, content is a necessity for becoming successful on the web. Packaged in different formats, content management has become the top agenda for business functions, especially business and finance functions. This calls for the need of an end-to-end content management platform.
As the web becomes more dynamic, digital platforms gain prominence with thought leaders becoming brand advocates and as businesses continue to scale, the quantity of content will online grow enormously from a few pages to thousands of pages across blogs, articles, whitepapers, brochures, opinion pieces, business records, invoices, vouchers and many other forms of collaterals. People not only consume content from multiple channels, they try and use content search tools to access all in one place. Hence, companies should not only focus on creating content, but also manage them as efficient content service providers. A content management system provides a smart approach to such management.
Benefits of Content Management
Using content management services, organizations can power consistent and powerful customer communications and derive the following benefits:
Faster and Easier approach to updating website page- Add/Remove/Update pages easily with changes log register
Simple and modern user interface/dashboard for editing content eliminates the need of a technical expert- A business user can easily make changes using the configurable dashboard
Provides efficient workflows, integrated assets and rights management, and efficient storage and retrieval of data
Customizable templates and designs for easy development of web pages
Provides a structured workflow based approach and in-house process for publishing content
Provides complete content security with restricted access and using strong data protection techniques
Manages meta tags for the web pages for enhanced search engine rankings
Provides in-built website traffic tracking and analysis system
Contains Easy meta tag management tool
Allows multiple publishers to upload content
Provides easy image upload facility and flash content management system
Regular and easy archiving of web pages keeps content secure
Our content management solutions are capable of high-volume scanning and imaging, automated data capture and data entry, document management and business process management (BPM). Automated form classification, data capture, document management (search engines, retrieval, revision history), and publishing/delivery—pushing content via print, email, web and RSS to the right people at the right time helps business engage with customers and sell better.
Content Management Services from Webkad
With such benefits and technology, Webkad delivers expert content management services to power growth across our client businesses. Our content management services are spread across
Alfresco is an Enterprise Content Management System (ECMS) providing a host of features- Document Management, records management, web content management, media management with imaging capabilities, etc. It is a cloud-connected open source business critical content platform providing tablet and mobile workplace, and APIs for content-centric applications. Alfresco as an ECMS is an effective way of knowledge management using collaboration. At Webkad, we are the leading providers of content management solutions powered on Alfresco.
Drupal is a modular content management system (CMS) used for management of customized content on dynamic websites. It is a PHP/MySQL based open source management platform delivering efficient content management services and runs on Mac, Linux and any other platforms and environments. Drupal is a great source for developing flexible and function-rich websites at low costs. Readily available free and customizable templates can be used as building blocks for developing solutions of your choice, however complex you want them to be! At Webkad, we are the pioneers in content management solutions leveraging Drupal platform.
Liferay is an open source code and needs support and maintenance expenses only. Using a simple content sharing model and storing documents on a shared network, Liferay eliminates the need of any special software. Its Intelligent Virtual File System can be used as a shared drive using CIFS, WebDAV or FTP. The product supports search functionality using search and Folder browsing as well. At Webkad, we have years of experience in delivering best in class content management solutions powered by Liferay platform.
WordPress started off as a simple blogging platform. Today, it has grown manifold to grab the position of the most widely used CMS on the Internet. WordPress is highly versatile as it enables its users to either pick from thousands of plug-ins and themes, or thanks to build something for their own use without paying any licensing fees. At Webkad, we are expert providers of content management solutions built on WordPress platform.
Webkad offers website design & development,  domain registration & hosting, e-mail service @yourname.com, interactive resume vcard website,  revamping, redesigning, e-Commerce, seo, smo, ssl, digital branding strategy & marketing with 100% RISK-FREE professional services around the world. Webkad offers online support for domain and hosting, Domain check, lookup, register, renewal, sales, transfer, availability, service provider, purchase. Webkad also offers latest top beautiful dynamic seo website, design, hosting, freelance, build, ecommerce, develop, business, web agency, website creator, web solutions, graphic, web logo design. Webkad is always affordable seo website designer, inexpensive, cheap, effective, flash, freelancer. Webkad offers seo website designs & development for all type of business, restaurants, medicals, NGO's, hotels, travel, personal,  Blog, Magazine, Corporate, Retail, Technology, Nonprofit, Entertainment, Wedding, Mobile, ecommerce, Real Estate, Education. Webkad is seo custom Website specialist for site design, redesign, revamp, maintenance, outsource. Webkad offers Website designs for mobile responsive, creative, innovative, online and interactive. Webkad offers Business email hosting, Website Domain, Dedicated Server, web hosting, Web consulting, website solutions. Webkad.com is fast growing information technology integrated solutions provider with strong professional background around, KAD was established in 1994. Webkad is providing its all professional services in USA, Canada, UK, France, Dubai, Egypt, UAE, Kuwait, Qatar, Bahrain, Saudi Arabia, Oman, Italy, Germany, Australia, Middle East, Pakistan, Malaysia, Singapore, Philippines and Spain.